Questo post è disponibile anche in: Italian

To present myself: My name is Milena, I'm 21 and I live in the province of Lecce.
Thanks to EVS, I lived in Bulgaria in June, working with a local association for the organization of the Carnival of Ruse, the city I was in.
First of all, it's an experience that changes your life because it gives you the chance to live in an international context (in my case, we were 23 youngsters from Italy, Spain, Portugal and Greece) and in close contact with a culture different than yours.
For those who want some upright to participate in an EVS, I begin by saying this is an experience that helps you to improve in various fields: English, you have the opportunity to learn a new language (in my case the Bulgarian) and you can travel through the country during free days and visit places that you would otherwise have never seen.
To start with the EVS you have to be between 18 and 30, and the duration of the project may vary from a minimum of two weeks to a maximum of one year.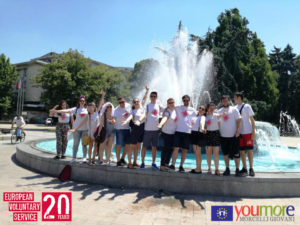 Regarding bureaucracy, however, before leaving, you need to have a sending organization, that is, those who work through you and the organizers of the project and take care of all the bureaucratic aspects.
The second step is to choose a project. Once you have submitted the Curriculum Vitae and the motivational letter you just have to wait for it to be taken. Do not worry if you are not chosen from the first time, there is a lot of competition. But EVS projects are always renewed, so you can find others that are in your case thanks to the help of the association or through the European database.
As for the money, each volunteer is given a pocket money that varies according to the country where you live, the food and accommodation are paid by the host organization and the cost of flights is reimbursed up to a maximum amount that varies depending on the distance from your country.
What I can assure you is that you are putting on the game at all times and really appreciate what your skills are, knowing new cultures, learning about confrontation and tolerance to different situations, and of course the fun is not lacking either. So I can recommend this wonderful experience by saying just one word: GO!