Questo post è disponibile anche in: Italian
Five months have passed since my arrival in Madrid. I remember like it was yesterday October the 3rd of last year when, full of emotion and curiosity, I was looking at everything surrounding me when I arrived in the Spanish capital. Since then, time has passed, I have had experiences, but above all, I have experienced lot of emotions.
In Madrid, I am doing my European Volunteer Service (EVS),  an experience that is part of the Erasmus+, funded by EU. I am working as a volunteer at Europa Joven Madrid, a center that is informing youngsters about  projects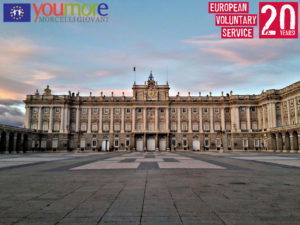 promoted by the European Union. More specifically, I help other young people who, like I did, want to do an experience abroad. I am helping them with the search for a project that they like and then with the path from their candidacy to their departure.
In another Madrid youth center (Tetuán Punto Joven) I`m taking a basic Italian course. This experience in particular is teaching me more and more to appreciate our language. It's really amazing and I was pleasantly surprised to find out that I have enjoyed here as much as abroad too.
Beyond work, to have an experience like this has teached me a lot of things. For example, I had to learn to do all those household chores that I rarely did at home in Italy, more than anything else, for the awareness that there was someone who was doing it in my place. Here, however, you have to do it and I will tell you: it is not so bad. Of course, sometimes you do not have too much desire, but you just have to do it.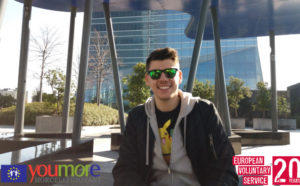 As for the people I know, I could write pages and pages: Of course you cannot always agree with everyone, but the feeling you experience when you know a perfect stranger (or more) that you understand up to date, because they are experiencing the same experience and having the same difficulties, is indescribable. Here, I can say that among the many people I've had the pleasure of knowing so far, most of them fall into this category. And this has helped me a lot, especially to overcome those moments of difficulty that inevitably go through in an adventure like this, which basically is a real life experience (for me one of the first).
So I can say that this EVS is giving me so much … a lot! And I'm sure the remaining five months will have even more to give me.
All this that I am experiencing mainly thank you to the precious help of Youmore's staff, which I will never thank enough. In particular, I have to thank Sona for supporting me and sapping in the path to get here to do this experience. Also, thanks to Justina, who is the one through whom I met Erasmus +.
Advice: If you have any doubts or want to know more about the European Voluntary Service, but also, more generally, about the world of EU projects (and I would strongly advise you to know about it), please contact them. You could not ask for better!
Bye!
Stefano
Translated by Ljubica Simonova