Questo post è disponibile anche in: Italian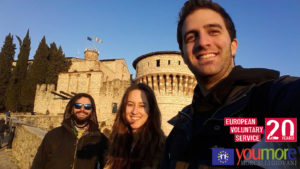 Hello to everyone. I am Jorge Huéscar Aguilar, came from Spain, Málaga I am 27 years old and in the last ten months I have been in Chiari doing the European Voluntary Service, in the Youmore Morcelli Giovani. 
But maybe you are wondering, how did this spanish guy end up here and for so long? My story began when I graduated in economics, like so many others I did not find any work on my studies, and during my studies I had not participated in any Erasmus project, I thought "I live in the best city in the world …", "If so many tourists are coming why I should go away?", "What am I missing?", My mistake …
Once a friend who had participated in a youth exchange told me about her experience. She had so much fun, had made many new friends, had improved greatly with english, and besides, it was all free.

So I decided that I want to try and participate in one of these projects, finally saw an opportunity in the Informagiovani of Malaga and I was selected to go to Apulia, Italy. This experience has changed me completely, opened my mind, broke many stereotypes that I had about people coming from other countries, I had a lot of fun and improved my english a lot. Above all I had made many friends in many different countries.

So I became very interested and I was participating in all the projects that I had the chance. After the fourth project and knew that it would be more difficult to continue traveling from the Informagiovani because they also had to give the opportunity to other young people in the region, so I chose to do my informal group as an association, helped me and many other friends who had done something like that I met all these exchanges, and gradually learned more and more about the Erasmus + world. Every time I was more interested in this, I participated in multiple exchanges, training courses, also organized exchanges and sending groups for other projects.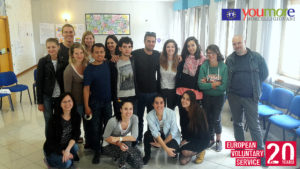 After I got enough information  about EVS I decided that my next step would be to do one too, and I chose Italy because I love this country, the culture, the language and the people. While I was looking through the different options I found one who attracted my attention. Youmore was looking for young people to work with them in an Eurodesk office, I couldn't believe that I had found a project where I could gain experience in this field of work that I was already interested in. I did not think twice, although I applied after the deadline and I was lucky that in the end I was selected.
During this period of my voluntary was divided into three parts.

 The work at Youmore's office, where I mainly did editorial tasks in Photoshop, and helped with other things I could, we also organized several events, like two European projects that were very interesting, where I had the opportunity to see the projects from the point of view of the organization. In particular to assist all logistic activities, and we have also participated in many events that promote the Erasmus + program, perhaps I would have liked more work in this work, like writing a project together, but everything depended on the workload that we had at the office all the time, but by the time it was very interesting to work with Sona, Uliana and Justina, in the office  we always had a friendly and relaxed atmosphere that surely many would envy.

 The work in the Youth Agregation Center (it. Ludoteca), which was not my priority at first, was an interesting experience to work with children in our early months.

 And about the last work in  GREST, it was a different experience. I understood that for the children from Chiari it was very interesting, but of course the organizers did not need us that much and they did not let us do some things, just stay with the kids every day and see how they play, so for almost two months I've been "a grest spectator" and this makes me feel like I've lost a lot of time for that period.

Fortunately almost at the beginning of the project I met several boys in the region and others EVS who were there before me, who without doubt have always invited me to go out with them, with whom I have been in different graduation parties, and festivals, we also did some trips together, and they helped me whenever I needed them, thanking everyone I thank them very much because they made my EVS very interesting. 
One of the best times, no doubt during the whole project for me was the on arrival and mid-term evaluation meetings for EVS volunteers. I met new people, took part in a training that came out much stronger, and above all I met so many good friends. I was traveling all over Italy with them, and they came to visit me too when they had the opportunity.

In conclusion, it was an unforgettable year, and an experience that I would like to share with everyone.Thank you so much and see you!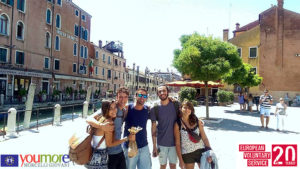 Jorge Huéscar Aguilar
Translated by: Gordana Blagojevska