Questo post è disponibile anche in: Italian
It has been a month since I have been return in Italy after my EVS project in Kaunas, in Lithuania. First of all, I will never stop thanking enough at Youmore Morcelli Giovani, which has let me discover the world of Erasmus+ starting with a youth exchange and finishing with an EVS project of six months abroad.  I would like to give special thanks to Justina Krauledaite who has followed me as after as same as during the choice of the candidate for my EVS project.
I have left on 3rd of October 2016th for Lithuania, a country which I had no idea of its culture nor the language. In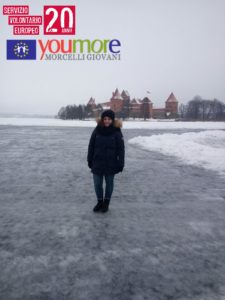 Kaunas I have been volunteer in one school named "Kauno Vyturio Gimnazija". Mainly, I had worked with children from the elementary school, but I was also doing activities with the youngsters from high school. At school I helped two English teachers during their lessons with children and often, in some classes, I have followed the children who have difficulties understanding the lessons. Three times per week I teached Italian to the children. They treated the lessons very freely, in average I had 7 do 10 students per day. In these lessons, I have decided to adopt one informal method of teaching, so that they can learn one foreign language and have fun during it. During those three times per week, I have always helped one Nun in her Italian lessons with the students of last and second of last year, but most of it was communication lessons. Furthermore, every day around noon, I helped the children with their homework or basically, I was proposing recreational activities.
Initially, getting used in school was not easy, especially with the children, but day after day they learned to know me and to consider me more like a friend. I will never forget a scene that happened during one of my last days at school. Twice a week I helped a second elementary child during English lessons.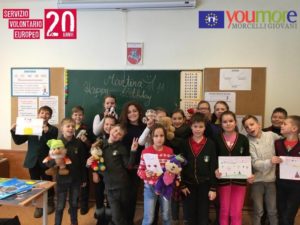 I remember, that in the early months, he was reluctant to help me, but as time passed, he started to wait for our lessons, he was happy that I sit next to him, he wanted me to use his favorite pen and carry out the tasks with greater attention. During the last lesson he gave me a letter with " Thank you Martina for helping me during English lessons. You are my friend, I will miss you. " And he gave me a bracelet with the colors of Lithuania, made by him. I think it was at that moment when I understood what exactly meant participating in a European Voluntary Service project. I made myself available for a whole new country, but what I offered to this country is nothing compared to what Lithuania has given me. The children's smiles and hugs, the new people I've met, the experiences I've made and that I never imagined I could ever do. Lithuania is rich in nature, culture and traditions. In these six months I had the opportunity to know this country and also their stiff winter. The winter in Lithuania is very cold and I think I have never seen so much snow in my life.
As one dear person to me says, 'There is no cold, but only the wrong clothes' and I`ve survived by layers and layers of clothing. Winter in Lithuania, it fashion is also fascinated, snowy forests, for the first time I went to the sled and walked on a frozen lake. Despite the cold climate, the Lithuanian people are not cold or rather they may seem, but they are not. I was lucky enough to meet locals who welcomed me from the first moment, making me feel like home.
A Kaunas I met many other guys from all over Europe who like me, did their EVS. They immediately allowed me to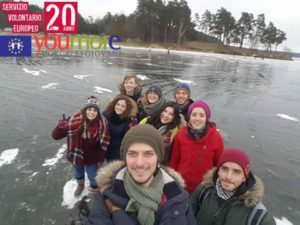 feel part of a community, to know new people and find out more about cultures from other European countries.
It has been an experience that has changed and made me grow, for the first time I found myself living alone, facing new challenges without the help of my family or friends alongside. It is an experience that I recommend to everyone so do not waste time and contact the girls of the Youmore Morcelli Giovani, they will be very happy to help you as they did with me!
Iki,
Written by Martina Mezzasalma
Translated by Ljubica Simonova