Questo post è disponibile anche in: Italian
After a long trip which started at 7 o'clock on Sunday 21st January, we have finally arrived in the evening in the city of Düzce. After a typical dinner in a restaurant in the center, we had enough time to rest in a traditional hammam (swimming pool, sauna and Turkish bath) in the hotel, making the most of this moment to meet our new adventure companions.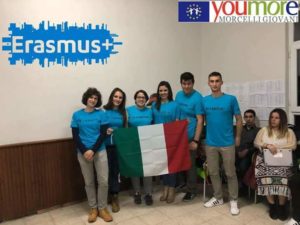 From the very first day, we understood that every free moment would be beneficent to encounter others: chatter and games occupied our moments and animated our evenings.
The following day, two buses waited for us to transfer us to the project headquarter: the activities are not planned in the city, but in a nearby village, in a structure used for language courses, for painting and most of all for cooking; right behind the stove was born the idea of an intercultural project.
The first days were characterized by activities, get to know you games and team building, and only afterward we were divided into subgroups, based on personal skills and attitudes, to lead the way to the various workshops: kitchen, reporters, visits, filmmakers.
After organizing the weekly plan, we went shopping altogether, unleashing our spirit regarding the lack of ingredients: for us Italians, it was difficult to imagine typical dishes without mascarpone cheese, basil, savoiard biscuits or mozzarella, but ultimately everything went well! Shortly afterward, we returned to the village for the first of the intercultural evenings: the Turkish evening, animated by typical songs and dances and by a warm welcome that immediately made us feel at home.
In the following days, for every meal, we were able to try an appetizer, a drink, a main course, a dessert and a typical salad of each participating country. The Italian group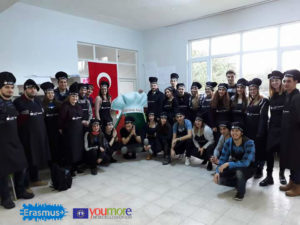 presented polenta, salami, and parmesan as an appetizer, Spritz as a drink, risotto and pasta as a main dish, tiramisu as a dessert and Caprese as a salad.
Our cultural evening took place together with the Bulgarian one, while the Lithuanian was with the Spanish one; flavors, aromas, photographs, videos, legends, songs and dance moves have made us travel with our mind, accompanied by those who live in these places throughout the year.
During the evenings the local people were invited to participate and their warmth was always present.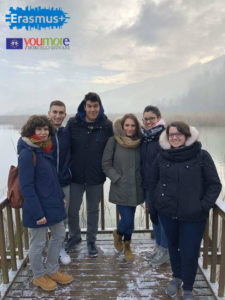 We had the opportunity to visit both the village and the city, and finally, on the last day, we felt the thrill of seeing and touching the black sea, which is a few kilometers from Düzce.
It has been an intense week, in which we have completely immersed ourselves in different cultures, savoring various aspects; it is difficult to describe it with words: every moment was full of emotions, whether joyful during festive moments, or sad during goodbyes.
Every time you return from such experiences you feel richer and less alone, knowing that you can always find an open house and that someone will be waiting for us somewhere in the world. What better can you ask for? We sincerely thank all those who have engaged themselves to organize the project, Youmore for giving us the opportunity to participate and in general those who continue to promote initiatives of this kind, which bring people and lives in touch, helping to build a better tomorrow.
Written by Paola Baiguini
Translated by Stephanie Bernardes