Questo post è disponibile anche in: Italian
Hi guys!
People who are writing this article are a group of youngsters who decided to depart for 10 days to the completely and absolutely unknown new country which is Armenia. We left on 20th of April thanks to one youth exchange within Erasmus+, under the title "Youth for the future" with a topic of environmental protection, recycling, and respect for nature. Wrapped in the dark and silent snowflakes, we arrived, late in the night in the city of Aghveran, the small village at 2000m altitude nestled between the Rocky Mountains and deep valleys in the region of Kotayk, a little more to the north of the capital city of Yerevan.
On arriving we were welcomed by Sirarpi and Ruzanna, two sisters, part of the organization team, able immediately from beginning to send us a climate which was warm and serene, in the way we felt that we are a part of the big family. A hotel where we were staying during our amazing adventure was really well equipped: in fact, we had even a swimming pool, gym, a billiard room, a buffet restaurant with typical Armenian dishes which were really absolutely attractive. Every day, with meals, we were sitting around the round table: here we were happily eating together with our new Estonian, Lithuanian, German and Armenian friends who in the same way like us, participated in this project. In these occasions pops up the need to know how to speak English, a key that opens all the doors of communication that allows overcoming borders and incomprehension.
Every day was starting with energizers, games which help to socialize and to wake up a body and brain, after which we were taking a role in different activities, whether on the open or closed space, very engaging and stimulated: work in groups, video, presentation always referring to the environmental topics, particularly highlighting the importance of drinking water, a right to precious good unfortunately not accessible to all. Games, multimedia activities, and obviously all this was done in a pleasant and funny atmosphere, which made all fell more comfortable; all these activities helped us to understand small and big problems of the pollution, the way humankind continues to endanger the environment, the importance of thinking about the potential solutions.
All together wi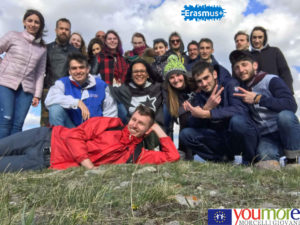 th small steps and actions can contribute a lot: we learned how to recycle paper, then we gave a hand in helping to clean the banks of a torrent full of rubbish and we did our best in creating the objects and art pieces by recycling garbage, because in seemingly not so beautiful things fineness hides.
One of the most important experiences was a walk up in the mountains: climbed on the top we had an opportunity to breathe fresh and clean air, overwhelmed by the feeling of peace allowed us to enjoy hearing the pure silence. Lightheartedness was seen in the eyes of all the youngsters, with heads up watching the blue sky, observing clouds that in the moment were chasing each other, like us, roaming the world, not caring about the borders.   And we were there, simply lying on flower carpets that were releasing thousands of different colors and perfumes, and nothing was missing.
Talking about flowers, an experience completely deep and touching was to be present on 27th of April in the city of Yerevan, on the memorial of the Armenian genocide: 24th of April is a day dedicated to the memory of this tragedy and thousands of Armenian people were gathering around the monument, filling it with flowers in the memory, thought and sign of mourning.   Here we collected petals of roses that successively each year are used in a recycled way by different associations in order to make recycled paper and scented candles. We were touched by the way, Armenian people, despite everything, keeps being united and never gives up; during the time period when we stayed there we also assisted to the important manifestation against the Armenian prime minister, who during the years kept promoting unfair politics which was mostly characterized by hypocrisy: one 'velvet revolution', in which people, whether when it comes to men, women or kids were protesting in a pacific way gather around the streets of the cities. So united they managed to create a new government, which will have a task and a responsibility to respect in a real way the ideals of the citizens. Armenia appeared as a light model of the avant-garde society, and a lot of other European countries should follow it as an example.
                                                                              This was one of the topics we used to discuss during our coffee breaks; the evening, on the other hand, was a time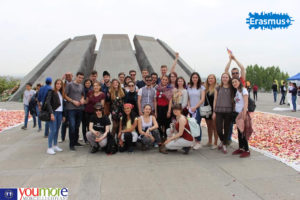 and space when each country had a possibility to present the own culture using vides, quiz, songs, dances, etc. One of the nights was dedicated to the intercultural meeting when different countries had a possibility to present typical dishes, offering the opportunity to try something typical of the far away countries. At the end, since tiredness does not enter into our DNA, and our wish to stay together overcame those couple hours of sleep we barely managed to have, we created a time for parties, whether those organized in pool or rooms, guitar strumming around a bonfire, where each of us was singing different songs at the same time.
These beautiful moments helped us to understand values of the tolerance and respect towards other cultures which can be significantly different from our own. Erasmus+ projects give you a hand to understand realistically that diversity is not something that should divide us, but mostly it is a note that should gather us and help us appreciate it more. And, even though, we come from different countries, diverse cultures, and languages, we are still living on the same planet: the environment is one thing that unites us and when it comes to nature, the conclusion is that we should and could learn a lot more than we actually think.
L'articolo tradotto da Biljana Dajic