Questo post è disponibile anche in: Italian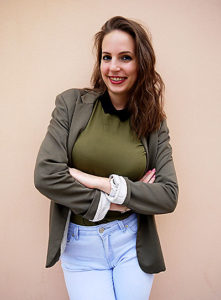 Hello! My name is Biljana and I am the professor of Italian, English, and Serbian language, literature, and culture, and the court interpreter for the Italian and Serbian language as well. I am Serbian by nationality but Italian by the soul.
I am bilingual in Italian and English while Serbian is my mother tongue. From the moment I discovered this EVS project in Chiari I knew it is just the perfect match. This opportunity for me is like the dream came true, after all these years of hard work and passionate effort, finally, I am in the place where I always wanted to be while at the same time having the possibility to make some changes in the educational system  not only in Italy but on the European level too. I am tremendously happy for becoming a part of this multicultural European Union's Erasmus+ programme for education, training, youth, and sport, which is defined by development and international cooperation.
Every new experience is a treasury of wealth so I really hope that I will a chance to meet new people, make interesting contacts and expand personal life aspects in every possible way.
In this precise moment while I am working and living in the most beautiful country in the whole world, I am keeping always in my mind a famous carpe diem's quote that:
"Life is either a daring adventure or nothing at all."